Pofessional Development Program dirancang untuk meningkatkan keahlian para professional pada bidang tertentu yang dibutuhkan oleh perusahaan Anda.
Dengan memberikan materi yang tepat sasaran, tim pengajar yang kompeten dibidangnya, serta fleksibilitas waktu dan lokasi pelatihan yang dapat disesuaikan dengan keinginan perusahaan. BINUS CENTER hadir memberikan solusi pelatihan terbaik bagi Anda dan perusahaan
Alur Program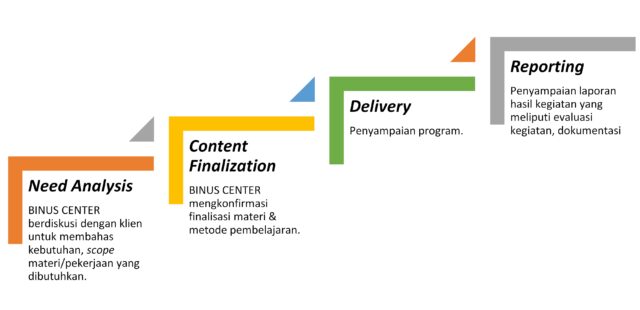 Pilihan Modul/Topik
Berikut topik-topik yang dapat dipilih oleh perusahaan sebagai referensi topik yang dibutuhkan.
Microsoft Office:
Microsoft Excel Optimation and Data Processing with Formula and Function
Dashboard for Microsoft Excel
VBA and Macro Processing with Microsoft Excel
Microsoft Word for the Next Level
Advanced Skill with Microsoft PowerPoint
Microsoft Project
Microsoft Power BI
Database Design with Microsoft SQL Server 2016
Programming:
Data Science
Data Analitycal
Big Data
Android Developer
iOS Developer
Database Programming with VB.NET
NET Developer with C#
Programming with C++
Python
Website:
Frontend
Backend
PHP Laravel FrameWork
Java Script Full Stack
HTLM 5
Web Programming with ASP.Net
Design:
Creative Data Visualization with Infographic
Graphic Design
3D Modelling and Animation + V-Ray
2D Technical Drawing with AutoCAD
Motion Graphic
Movie Editing
Sketch Up
Language (Bahasa):
Business English
Conversation English
General English
General Mandarin
General Japanese
BIPA (Bahasa Indonesia Penutur Asing)
BINUS CENTER juga sangat terbuka dengan modul/topik lainnya diluar dari modul/topik yang disebutkan diatas.
Kelengkapan Pelatihan
Standar umum kelengkapan pelatihan meliputi:
Fasilitator
Co-Fasilitator (apabila peserta lebih dari 15 orang dalam 1 kelas)
Training kit (Pen, Notes, Modul)
Binusian Flazz Card
Sertifikat (sesuai syarat kelulusan)
Competency Based Test (CBT), diperuntukan bagi topik Ms. Excel/Word/PowerPoint
Klien
Hingga saat ini BINUS CENTER telah menjalankan In House Training untuk berbagai industri dengan klien-klien yang berasal dari Instansi Pemerintah, Badan Usaha Miliki Negara (BUMN), Swasta maupun Organisasi Non Profit.
Permintaan Penawaran :
Riswatu Noval (Noval)
Partner Collaboration Officer
e-Mail : rnoval@binus.edu
HP/WA : 081293919393
Telp : (021) 534 5830 ext. 2812
Fax. : (021) 536 3867